Meals and Food Assistance Resources
Free Meals for School-Aged Children
USDA Extends Free Meals for Kids Through September 30, 2021! This unprecedented move will help ensure – no matter what the situation is on-the-ground – children have access to nutritious food as the country recovers from the COVID-19 pandemic.  Please visit https://www.fns.usda.gov/meals4kids to use the Site Finder interactive map for locations in all 50 states.
Free Community Meals (Bucks County)
Advocates for the Homeless and Those in Need (AHTN) of Lower Bucks County provides Free Meals for the entire family. While traditional (sit down) community meals are not open at this time, several sites are offering to go meals.  Please visit AHTN.org for more information.
Emergency Food for the Homebound
Are you in an emergency situation and unable to drive to a pantry or meals site?
If you have a household income at or below 150% of the federal poverty guideline and live in a qualifying zip code (visit site for list) in Bucks, Delaware, Montgomery or Philadelphia Counties, the Jewish Relief Agency may be able to help.
Fresh Food & Food Pantries
Farm to Families Program St. Mary Medical Center offers the Farm to Families program.  It provides fresh, healthy, affordable food throughout lower Bucks County.
Fresh Connect Bucks County Fresh Connect is a collaboration of Bucks County Opportunity Council, Philabundance, Rolling Harvest Food Rescue and St. Mary Medical Center, with generous funding by United Way of Bucks County. Fresh Connect offers free, farm fresh foods at three (3) locations per week throughout the county.   

FRESH CONNECT IS OPEN

  as a drive-through service during COVID-19
         Due to COVID-19, please call Pantries before visiting, as many pantries are reducing hours or closing during this time.
Fo
od Assistance Programs
The Supplemental Nutrition Assistance Program (SNAP) helps Pennsylvanians buy food to obtain a more nutritious diet.  Learn more about the SNAP program and how to apply.
For SNAP assistance in the Philadelphia region, visit the Coalition Against Hunger SNAP Help page.
The WIC Program is designed to serve certain categories of Women, Infants, and Children. The following individuals are considered eligible for WIC:
Women who are pregnant, postpartum (up to six months after the birth of the infant or the end of the pregnancy) or breastfeeding
Infants: up to the infant's first birthday
Children: up to the child's fifth birthday
Visit https://www.fns.usda.gov/wic or in Pennsylvania pawic.com for more information and pre-qualification.
Bucks County Food Assistance Sites Map (Click to access the interactive map)
Find programs including including SNAP, WIC, fresh food, pantries and summer meals for school-aged children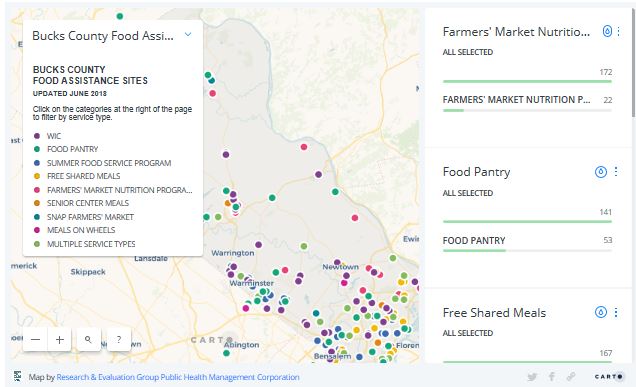 Food & Nutrition Education
Find food, health and fitness resources for all ages on Eatright.org, a healthy living resource from the Academy of Nutrition and Dietetics.
Seeking plant-based dietary guidance for infants, children and teens?  Visit Nutrition for Kids by the Physicians Committee for Responsible Medicine.
Find games, activities, and information about eating healthy on the USDA's Food and Nutrition Page.
Other Resources for those with multiple needs
Visit Pennsylvania 211, a community resource connection tool provided by the United Way of Pennsylvania.
Visit  auntbertha, a social care network that "takes the difficulty out of navigating the system to get help."  This site lists additional meals, food pantries and food assistance programs as well as medical, dental and mental health resources.  COVID-19 specific resources are also listed at this time.
Food Farmacy – Eating for Health
Apply for MANNA Services MANNA provides temporary meal services and nutrition education to those in the Greater Philadelphia area battling illness. MANNA believes food is medicine.