Find useful information on educational data, research, laws and guidance as well as grants and student loans.
Children's Literacy Initiative
A nationally recognized nonprofit that supports early childhood literacy and teacher support services.  A grass roots intitiative founded in Philadelphia, this organization has recently celebrated its 30th anniversary in making real contributions to children's literacy.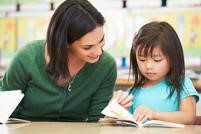 Learn how MAGIC supports education